As the 2024 GOP presidential primaries continue to unfold, the third debate in California November is poised to give some direction to a unique race where the front runner will give it a miss. While former President Donald Trump, who currently leads the polls, has chosen not to join his fellow contenders on the debate stage, the emergence of Nikki Haley as a formidable candidate in early primary states has taken center stage in the lead-up to the event.
Recent polls indicate that Haley, the former U.S. Ambassador to the United Nations and former South Carolina Governor, is surging in popularity among Republican voters, positioning her as the second frontrunner in New Hampshire, following behind Trump himself. Following the first two debates, where Haley delivered a stellar performance and shined as a candidate that not only showcased her foreign policy experience but kept it real with the primary voters on domestic challenges and the chances of winning election in November if the party was to nominate Donald Trump.
Nikki Haley is reshaping the dynamics of the GOP race which many had predicted could be won by appealing to MAGA base. She has demonstrated that the republican voters are open to hearing from a candidate that could be called traditional in many ways but someone that will also not be seen as a liability come November 2024.
Some voters say, that Haley's message on foreign policy, leadership, and economic prowess is resonating deeply with Republican voters, making her a candidate to watch as the primaries progress.
Indian Americans are increasingly showing their support for Nikki Haley, Some say they are drawn to her compelling blend of leadership qualities, political acumen, and shared cultural background. Haley's Indian heritage resonates with many in the community, making her a symbol of pride and representation on the national stage. Her accomplishments as the former Governor of South Carolina and U.S. Ambassador to the United Nations have garnered admiration, while her commitment to conservative values and strong foreign policy stance appeals to a broad spectrum of Indian American voters. Her potential to break barriers and her appeal as a role model for the community has made her a compelling choice for many Indian Americans looking for a political leader who understands their values and aspirations.
Her donors point out to her successful term as a Governor, Jiten Agarwal an Indian American Entrepreneur from Texas, who has been an early supporter and Donor for Nikki Haley, points out that Nikki Haley's appeal lies not only in her policy positions but also in her ability to bridge divides and unite the Republican base. "In an era marked by increasing polarization, her call for unity and bipartisanship has struck a chord with voters longing for a return to civility and cooperation in politics."
Another pillar of Nikki Haley's campaign is her commitment to economic growth and prosperity. Her record as Governor of South Carolina, where she presided over significant job creation and economic development, speaks to her credentials as a pro-business candidate.
Nisha Singh, who resides in South Carolina since 2002, and a supporter of Nikki Haley, says "Throughout her political career, Nikki Haley has consistently demonstrated strong leadership qualities. As Governor of South Carolina, she guided the state through the aftermath of the tragic Charleston church shooting and Hurricane Matthew with grace and resolve. Her experience in dealing with crises and her ability to lead with conviction will resonate with voters seeking a steady hand at the helm."
For Independents and voters who are not backing Trump, some say her emphasis on bringing the party together, while remaining steadfast in conservative principles, has endeared her to a broad spectrum of Republican voters. Smita Tandon, a resident of New Hampshire says, "In a divided nation, her commitment to healing the rifts within the party is coming across as a refreshing change of pace."
Haley's message of strong leadership extends to national security and foreign policy. In her Stump Speeches and Televisions interviews, she has outlined a clear vision for a robust American foreign policy that safeguards national interests while upholding American values abroad.
Subscribe for free to receive new posts and support my work.Subscribe
At the recently concluded RJC summit in Nevada, she said. "The stakes couldn't be higher, and given those stakes, we cannot have four years of chaos, vendettas and drama," Haley said to applause, noting her role as both a military spouse and a mother. "Eight years ago, it was good to have a leader who broke things. But right now, we need a leader who also knows how to put things back together. America needs a captain who will steady the ship, not capsize it."
Two days ago in South Carolina, she asserted that "America should only play a supporting role. Let Israel do what Israel needs to do." She touts her experience as U.S. Ambassador to the United Nations has equipped her with the knowledge and skills necessary to navigate complex international challenges. Don't talk to them about a cease fire. Don't talk to them about restraint. Don't talk to them about humanitarian aid." Haley added that she knew the region well as a former United Nations ambassador "I don't think America needs to be telling Israel what to do." Instead, she thinks it is more important to focus on the issues America is facing at home, such as inflation, improving education, crime and the border. "Now we look at a country that needs saving," Haley said. "Our country is hurting."
In the realm of foreign policy, Nikki Haley's vision is resonating with voters who value a strong American presence on the global stage. Her unwavering support for American allies, coupled with a tough stance on adversaries, has positioned her as a credible and capable foreign policy leader.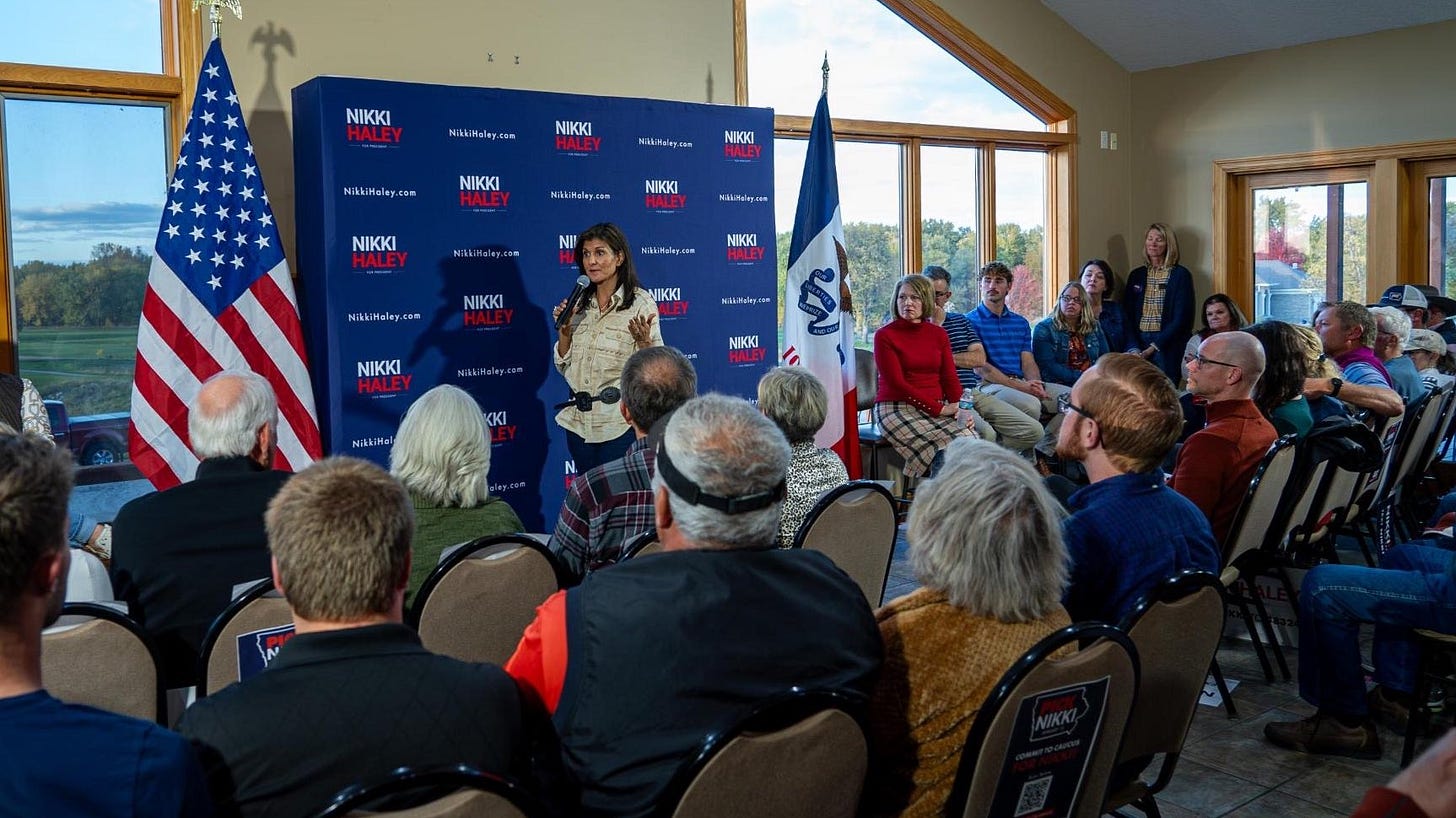 "American leadership is needed now more than ever," Haley asserted during the first debate. Her commitment to strengthening alliances, confronting threats, and advancing American interests abroad has garnered widespread support within the GOP.
While Donald Trump continues to lead in the polls, Nikki Haley's ascent to the second position in New Hampshire and tie with Governor DeSantis Iowa for second place is indicative of a growing momentum that could finally reshape this race to a tow person race that most GOP voters are waiting for.
Derek Schneider who voted from Trump in 2016 and 2020 says he is waiting for the primary field to winnow down to a Trump challenger. "Once this we know what the alternative is to Trump, I can then decide, Nikki has been doing well but I want to see her and Trump debate".
As the next debate unfolds in Miami, all eyes will be on Nikki Haley and her ability to connect with voters, articulate her vision, and continue her trajectory as a compelling candidate in the 2024 GOP presidential primaries. As some GOP insiders point out, this race is far from over, and the coming months promise to be a thrilling journey for both candidates and voters alike.
Rohit Sharma is a Senior Journalist who has lived in Washington DC since 2007. He currently is a contributor to Dainik Bhaskar, the world's third largest newspaper by readership. His opinion pieces feature on News 9 and The Quint. He has been invited as guest on the BBC, NDTV, India Today, AajTak, Times Now, Republic, Zee news and others. His work has featured in six Indian Languages.