Washington, DC – It's been more than a year since the pandemic took hold of North America, and it has been almost the same amount of time that an infodemic of misinformation and fear mongering has been spreading, leading to an increase in hate crimes against Asians in the United States.
An analysis of official preliminary police data by the Center for the Study of Hate & Extremism at California State University, San Bernardino, shows anti-Asian hate crime in 16 of America's largest cities increased 145 percent in 2020 with the first spike occurring in March and April amidst a rise in COVID cases and negative stereotyping of Asians relating to the pandemic.
In addition to politicians labeling COVID-19 as the 'China Virus' and Kung Flu, a recent tweet by former Arkansas governor Mike Huckabee adds fuel to the fire of anti-Asian hate: "I've decided to 'identify' as Chinese. Coke will like me, Delta will agree with my 'values' and I'll probably get shoes from Nike & tickets to @MLB games. Ain't America great?"
The problem is much deeper as Senator Tammy Duckworth expressed in a tweet, "The attacks, stabbings, shootings—we've seen similar veins of this discrimination against our fellow Americans before. From segregation to immigration to the internment of Japanese Americans during WWII. Uproot this racism. End the prejudice. #StopAsianHate." Senator Duckworth – an Iraq War Veteran, and Purple Heart recipient who served in the US Army for 23 years, still gets asked, where are you really from?
While reporting on President Biden and Vice President Harris' reaction to the Atlanta attacks, Paris Huang, White House correspondent for Voice of America, shared a disturbing incident on social media. We are quoting his tweets:
"Ironically this happened the day everyone is talking about prejudice against #AAPI . Behind this photo was a disturbing experience. I was getting ready for my TV live shot at BLM (Black Lives Matter) Plaza, 3 female Korean reporters were setting up at my left. Two people, the man was filming with an … iPad, the woman w/ a microphone, self-identified as "independent media", asked the female reporters: "Are you Korean or Chinese?" then interrupted their work, told them: "We are American, you are foreigners, we have the right to stop you from filming our White House"."
"In my crew were 3 men, Asian, Latino & Middle Eastern. I told my camera crew I think they will come back when they hear me speak in Mandarin. I went live at 6PM, started my broadcast in Mandarin, talking about President & VP's reaction to the Atlanta shooting, those 2 came back"
"… got really close to me 'cause I can hear them talking loudly & disruptivly right next to me when I was on air. 1 of my crew stopped them & shielded me w/ his body. We packed & left quickly. I am really disturbed. Hope my @aaja brothers & sister never have to encounter the same."
We stand with the Asian American community. We all have a responsibility to stand up to false and divisive statements, erroneous claims and misinformation whenever we come across it. Let's all take action to #StopAsianHate.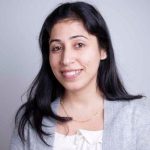 Poonam is a multi-media journalist, and Managing Editor of India America Today (IAT). She launched its print edition in 2019 with IAT's Founder and Editor, the late Tejinder Singh.