Washington, DC – The United Nations started observing International Women's Day in 1975 – an occasion to celebrate women's achievement – and in 1977, officially recognized it in a resolution calling for United Nations Day for Women and International Peace. March 8th, the date marking International Women's Day – is linked to protests in Russia in 1917, when women were granted the right to vote.
The global theme for this year's International Women's Day was "Women in Leadership: Achieving an Equal Future in a COVID-19 World."
Here is a snapshot of the current reality for women:
Women earn only 77 cents for every dollar that men get.
Almost 750 million women and girls alive today were married before their 18th birthday.
35 percent of women have experienced physical and/or sexual violence.
Two thirds of developing countries have achieved gender parity in primary education.
Women represent just 13 percent of agricultural landholders.
Adding to the gender imbalance is the lack of representation of women in the workplace and in the political arena. Last year the Fortune 500 recorded the highest number of women CEOs, but out of the 500 chief executives leading the highest-grossing firms, just under 7 percent were women.
According to recent data, women occupy the role of Heads of State or Government in 22 countries, up from 20 countries in 2020. As of January 1, 2021, 5.9 percent of elected Heads of State (9 out of 152) and 6.7 percent of Heads of Government (13 out of 193) are women.
Europe has the most countries led by women: five out of nine Heads of State and seven out of 13 Heads of Government. The number of countries in which women hold 50 percent or more of ministerial positions dropped from 14 in 2020 to 13 in 2021.
Countries with 50 percent or more women ministers:
Nicaragua – 58.82%
Austria – 57.14%
Sweden – 57.14%
Belgium – 57.14%
Albania – 56.25%
Rwanda – 54.84%
Costa Rica – 52.00%
Canada – 51.43%
Andorra, Finland, France, Guinea-Bissau, Spain – 50.00%
In a study conducted by the Global Media Monitoring Project spanning 20 years and 114 countries, only 24 percent of the persons heard, read about or seen in newspaper, television and radio news are women.
UN Women Executive Director Phumzile Mlambo-Ngcuka said: "No country prospers without the engagement of women. We need women's representation that reflects all women and girls in all their diversity and abilities, and across all cultural, social, economic and political situations. This year's map shows us that we still need bold, decisive action across the world to bring women into the heart of the decision-making spaces in large numbers and as full partners. There's no doubt this can and should be done. It should be done now."
The first International Women's Day was observed 46 years ago, and although there are more women participating in politics and public life, the pace of progress is slow, and women remain underrepresented in decision-making.
Inter-Parliamentary Union (IPU) Secretary General Martin Chungong said: "This year's growth in the number of women in political decision-making is just not good enough. Especially when you consider that 70 percent of health, care and service workers during this pandemic are women. It's up to all of us, both men and women, to keep pushing for greater representation of women in politics. We have the tools to make it happen. What we need now is the political will."
Ensuring that women have a seat at the table and are included in policy making will strengthen the social fabric, and promote economic growth and resilience of the global community. Let's expand these conversations beyond International Women's Day and Women's History month.
Take a look at your place of work.
Is there equity in pay, and is everyone's voice being heard?
Take a look at your community.
Is everyone's voice represented?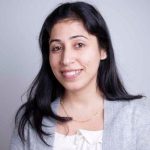 Poonam is a multi-media journalist, and Managing Editor of India America Today (IAT). She launched its print edition in 2019 with IAT's Founder and Editor, the late Tejinder Singh.