FIIDS, and Indian American Advocacy group met with over 50 lawmakers this week asking them to take action to retain talent in the US.
This week at the Capitol was dominated by two stories, the looming debt ceiling and immigration. While the Hill was consumed with drama with a dead on arrival debt ceiling bill, on immigration, apart from the usual partisan hearings, a very powerful advocacy event led by Foundation for India and Indian Diaspora Studies (FIIDS) President, Khanderao Kand was underway.
FIIDS led the charge to advocate for retaining Indian talent in the US by advocating changes to the legal immigration system that has been broken for more than 40 years. The group met with lawmakers and their aides from both the parties such has; Rep. Tony Gonzales, Rep. Doug Lamborn, Rep. Darren Soto, Rep. Gerry Connelly, Rep. Monica De La Cruz to name a few.
Per FIIDS President, Khanderao Kand, the meetings were to advocate for three immigration issues that concern the Indian American community:
Remove the 7% Discriminatory Country Caps – Per US government reports, the US is facing shortage of highly skilled STEM workers especially now when China is doubling down on research and development to outpace the US. The group advocated to reintroduce EAGLE ACT that is aimed at removing 7% discriminatory country caps on employment based green cards which adversely impact Indians living in the US. There are close to a million Indian workers in the US, that are waiting for decades to get a green card. The current wait time is estimated to be more than 125 years due to the 7% country quotas, established on the same principles of draconian Jim Crowe laws, in 1965. By removing the 7 % country caps, and allowing high skilled workers to become permanent residents, opening the door for them to help the US with more innovation, research, investment and job creation in all fields from Defense to Healthcare to IT.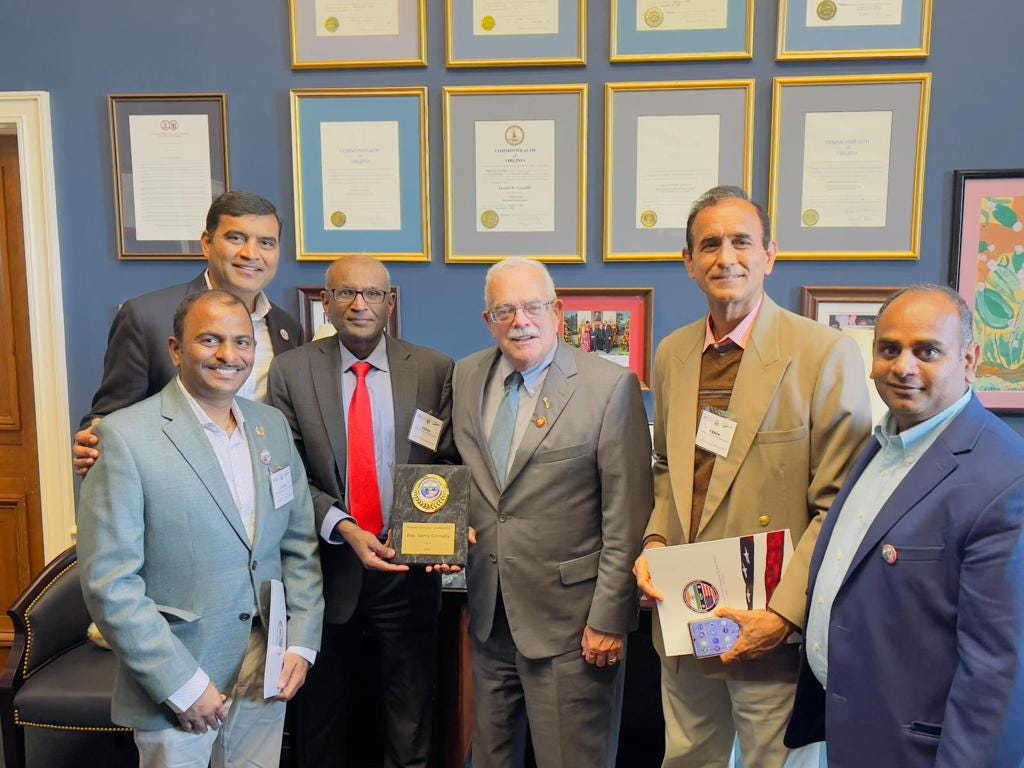 The Group also advocated for passage of HR1535- Eliminating Green card backlog, a bipartisan bill introduced by Rep. Larry Buschon and Rep. Raja Krishnamoorthi. The bill aims to recapture green cards wasted by US agencies. As per a recent study from CATO institute, if these unused green cards from 1992 are recaptured, the total number will be as high as 490,964. This will mostly clear the green card backlog for number of countries including the Rest of the World.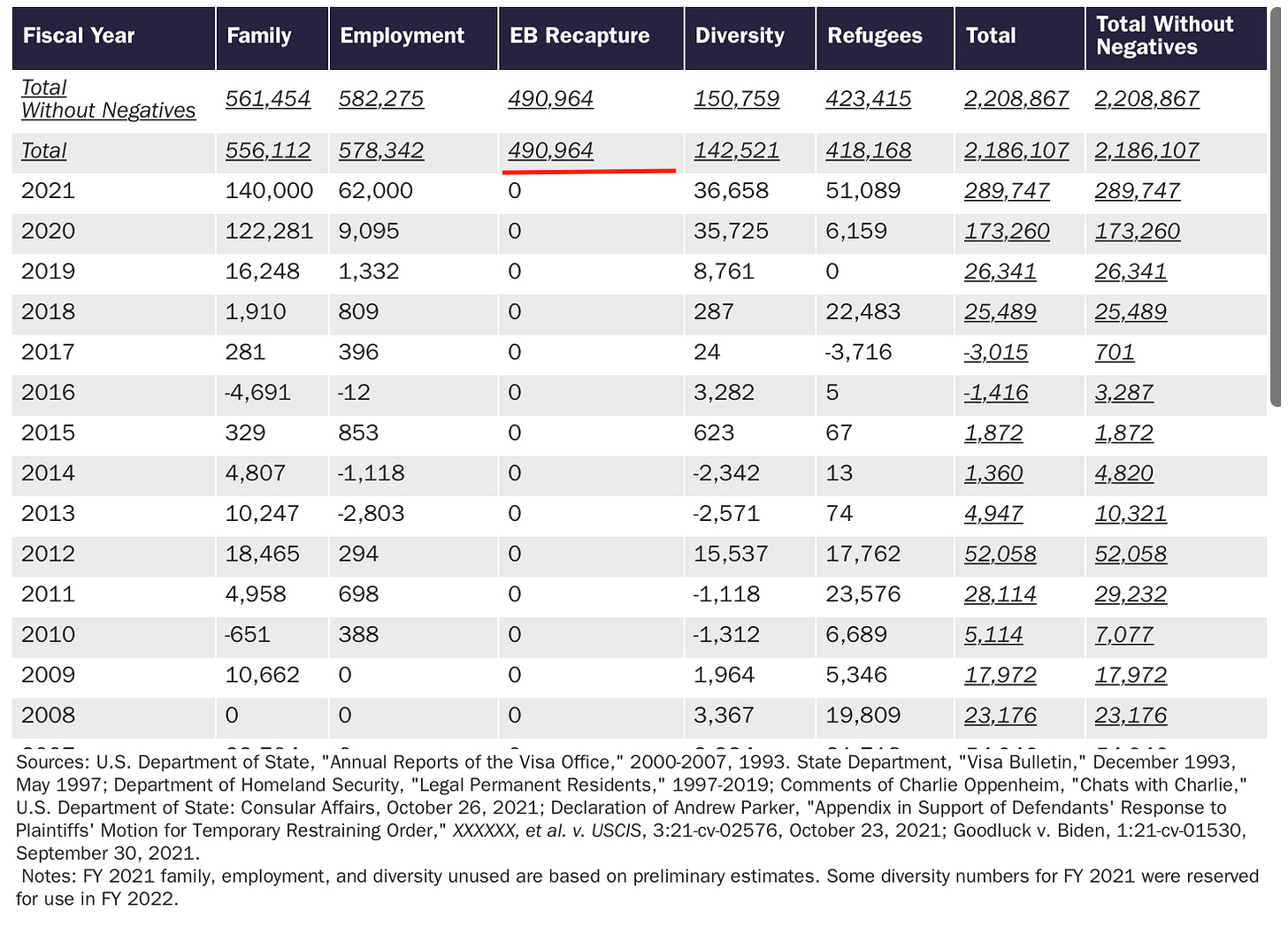 In addition the group advocated for reforming H1B visa process to allow for US educated students that allows for US talent to be retained. Currently, H1B: Every year, US companies find a talent gap of about 300,000 mostly STEM talent, for their R&D and development work to the US technological advantage. For this purpose, they file non-immigrant visas like H1B. However, even though the talent demand is increasing, the visas are restricted at 85,000. This results in US-Universities training top talent but leaving them open to the pitfalls of an outdated H1B lottery system. On an average, 130,000 students apply for OPT every year and have to compete via lottery for a mere 85,000 available H1B visas. The group called this deficit as a national security threat as the US has been losing technical advantage over China on issues like artificial intelligence and research. The group recommended a better comprehensive reform of H1B system to address the rising threat from China.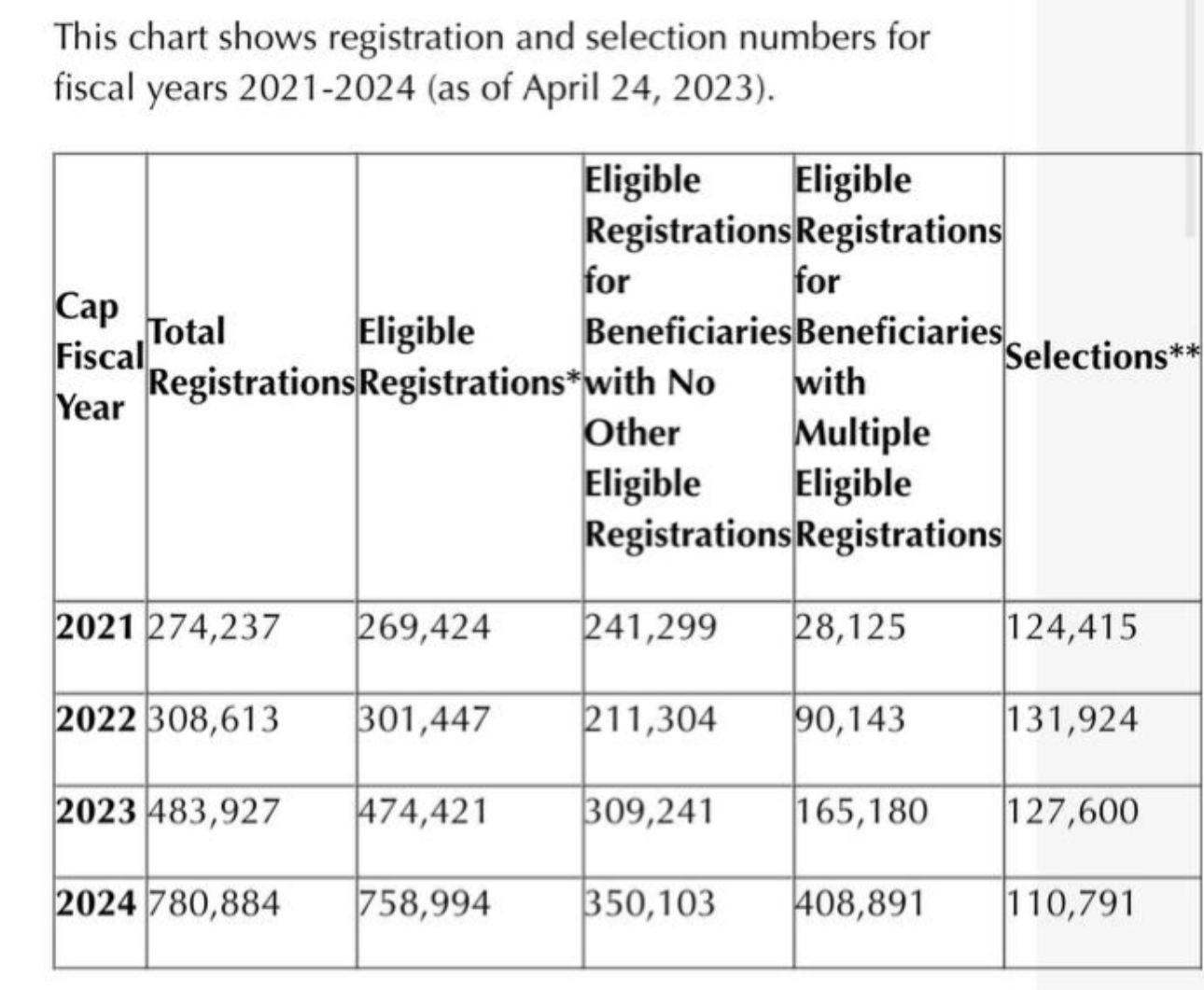 In the evening, a reception was hosted on the Hill by FIIDS that saw many US lawmakers talk about theses issues. Rep. Ro Khanna touted his support for reforming the current system. "In Congress, I have spoken out against discrimination and am a cosponsor of the EAGLE Act to lift arbitrary per-country green card caps that are hurting members of our community. I have also worked with Indian American leaders like Ajay Bhutoria to bring down this decades long backlog and my district staff is available to help constituents, particularly kids who came to the U.S. as kids under their parents' work visas and are now aging out of coverage, navigate the system. My overarching goal is to continue to uplift our community and deepen the US-India economic and defense relationship." Khanna said.
Rep. Krishnamoorthi called Indian Americans as the most important thing that India has exported to the US and assured the community of resolving these issues.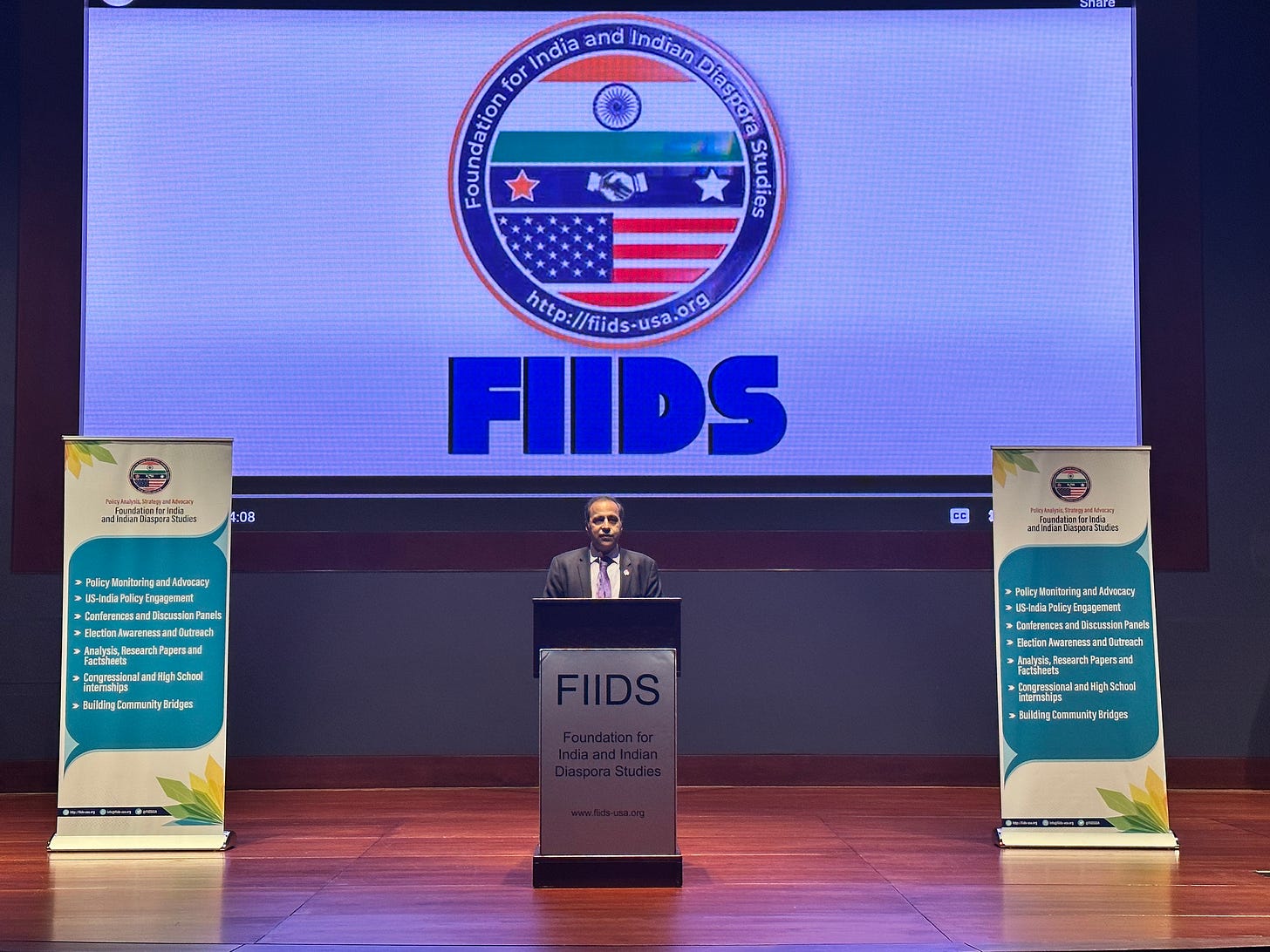 Rep. Shri Thanedar, freshman Congressman from Michigan said that his office is actively looking to address these issues, as he himself went through the cumbersome process that does not meet the challenges faced by the US in this new day and age. He added, that his office is looking at all the bill and he wants to solve the backlog issue in this congress.
Th group was upbeat after a hectic day and vowed to keep their engagement ongoing with the lawmakers until these issues are resolved. "The meetings today, allowed for our leaders in the Congress to understand the challenges faced by our community and more importantly how these issues impact the US. We are facing fierce competition with China and if these issues are unresolved, we might loose to to China soon" one FIIDS member remarked.
Khanderao Kand, who also advocated for inclusion of more countries into QUAD talked about the success of the group in advocating for the diaspora. He said, "We have already been able to make significant progress on issues such as visa delays that we advocated for. We are more than hopeful that with continued advocacy, we will be able to resolve issues that impact our community and are in the best interests of the US".
Rohit Sharma is a Senior Journalist who has lived in Washington DC since 2007. He currently is a contributor to Dainik Bhaskar, the world's third largest newspaper by readership. His opinion pieces feature on News 9 and The Quint. He has been invited as guest on the BBC, NDTV, India Today, AajTak, Times Now, Republic, Zee news and others. His work has featured in six Indian Languages.