Washington, DC – Deputy Secretary of the Treasury Wally Adeyemo is in India for meetings and events in Mumbai on August 24 and August 25 and New Delhi on August 26. His visit will reaffirm and strengthen the U.S.-India relationship and the shared commitment to a secure and prosperous Indo-Pacific.
The Deputy Secretary will focus on the solid US-India bilateral economic relationship and highlight the extensive investment and trade flow between the two nations. Discussions will focus on strengthening energy security, addressing global food insecurity, building more resilient supply chains, and the Indo-Pacific Economic Framework that India joined as a founding member in May.
In Mumbai on August 24 and 25, the Deputy Secretary will meet with senior government counterparts and executives from leading Indian businesses – including financial services and energy sectors. In New Delhi on August 26, Deputy Secretary Adeyemo will meet senior government counterparts.
At a reception marking 75 years of India's independence, Adeyemo spoke of the "indispensable partnership that we've built with India and how remarkable it is that in just 75 years, you have become our indispensable partner."
"It demonstrates how quickly India has taken the steps to both build a thriving democracy and a thriving economy, one that we seek to partner with in so many ways. And as we think about the next 75 years, the challenges that we face, as two of the world's most important democracies, is how do we prove the democracy continues to deliver for our people, and I know that America working closely with India will be able to meet that challenge," said Adeyemo.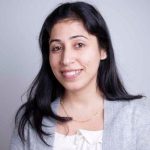 Poonam is a multi-media journalist, and Managing Editor of India America Today (IAT). She launched its print edition in 2019 with IAT's Founder and Editor, the late Tejinder Singh.