Washington, DC – Hundreds of people marched to the White House to appeal to the Biden Administration to act immediately to protect and support Afghan women. They called for action to ensure the safety of women and promote their vision of the future of Afghanistan.
DC resident Sohaila came in solidarity with Afghan women back home. "We have raised our voices several times, and [it] looks like there is no action coming out of anything that we do. Right now I am disappointed, hurt, and feeling helpless that everybody is turning a blind to Afghanistan and its people," she said. "All these females are going to stay home, and won't get education and [they] are going to be forced into marriages. Afghanistan is going to go back to the stone age. And I would like for the international community, human rights activists, to hear Afghan women, to hear children, to hear our people, to raise our voices, to help us. "
Zainab Salbi, founder of Women for Women International, and one of the organizers of the march expressed deep concern for the women in Afghanistan, saying that she was "so angry that we are betraying them and abandoning them without any protection of their rights. And we are here to shout together and we say we will not forget them. We will not stop until they are safe, until they are protected."
Afghan activist Nabila spoke up for Afghan women's rights, "right where they can hear our voice, and not forget about those poor women who are in Afghanistan." Adding that the world needs to pay attention and take action to prevent Afghan women from becoming slaves in a male dominated culture, she said, "This is my wish and that's why I'm here. I want to give my time, and my energy, anything that I have to have those womens' voices heard through me to the world."
The key demands of the marchers included prioritizing the evacuation of Afghan women leaders, ensuring the protection of women's rights inside of Afghanistan, and amplifying the voices of Afghan women who were able to get out.
In a message to Global Strat View, Afghan American Shakella Mujaddidi said that the "efforts displayed by the courageous women of Afghanistan should be joined globally. Thank you to Angelina Jolie and other people who have voiced their opinion. Going forward, the demand for freedom, right to education and equality should be shared by all women throughout the world. It is the hope of the courageous women of Afghanistan that all iconic and influential people join our great cause."
Pramila Patten, Executive Director a.i of UN Women, called on the Taliban leadership to include women in the upcoming governance entity. In a statement, she noted the public commitments made by the Taliban's spokesperson to uphold women's rights "within the framework of Islam", including women's right to work, to pursue higher education and to have an active role in society, as well as the right of girls to attend school. "The immediate inclusion of women in the governance structure of the new leadership in Afghanistan will be the ultimate litmus test for the Taliban," stated Ms. Patten.
She added that Afghan women's rights activists had fought for their rights and made considerable progress. "These hard-won gains cannot be reversed or rolled back. The inclusion of women in the governance architecture will be the litmus test for the new political leadership of Afghanistan. Urgent action is needed now to ensure the full participation of women in the public and political life of Afghanistan."
This march was organized by Vital Voices, in partnership with the Georgetown Institute for Women, Peace and Security; Women for Women International; CODEPINK; 1 Billion Rising; Mina's List; Alliance in Support of the Afghan People; and Equality Now.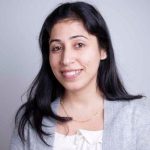 Poonam is a multi-media journalist, and Managing Editor of India America Today (IAT). She launched its print edition in 2019 with IAT's Founder and Editor, the late Tejinder Singh.