Aruna Miller is the Democratic candidate for Lieutenant Governor of Maryland. If elected, Miller would be the first Asian-American Lieutenant Governor of Maryland. She is a former member of the Maryland House of Delegates and has represented Legislative District 15 in Montgomery County. In her political career, Miller co-sponsored legislation and encouraged progress in various sectors, including education, the environment, the economy, healthcare, gun control, and the opioid crisis. IAT's Managing Editor, Poonam Sharma, caught up with her on the campaign trail.
PS: A few years ago, I attended an event where you said, "if you're not at the table, you are on the menu." There is a conspicuous lack of representation amongst minority groups, women, people of color, and indigenous people. Do you think there's a reluctance amongst minority groups to run for office?
AM: Yes, you're on the menu if you don't have a seat at the table. And I think it really highlights how important it is that you're at the table and helping to develop policy. I think there is reluctance among people of color and minority groups to run for office. Part of that is because, let's start with the fact that there isn't as much representation from people of color communities being elected to office. It has changed quite a bit since I first ran, and I love seeing it because people are now running for office.
But you know, there's a whole story to that. First, people do not engage as much when they do not see candidates who look like them or possibly have left, you know, to lead a life like them. Then, as a result of that, elected leaders don't reach out to minor communities because if they're not engaging, they're not voting. You have limited resources when you're running for office as a candidate. You concentrate on those voters who consistently vote in the primary, general, midterm, and presidential elections. That's where you put your focus. So it becomes this, you know, the unfortunate cycle of minor communities not being engaged because they don't see people who look like them. And then elected leaders do not pay attention to them as much because they're not voting. So, you know, that's kind of the cycle it goes in.
PS: What spurred you to join politics?
AM: I am an accidental politician. My background is in engineering. It's, you know, one would think that's the farthest thing from an individual that may want to run for office. But one thing I've learned over the years is that anybody with any professional background should consider running for public office or being engaged in policy making because it impacts our life. From the moment we wake up until we close our eyes, policymakers are passing laws, bills, and budgets that affect your life daily.
I became a US citizen in the year 2000. The first time I ever voted. I remember going into the polling booth, literally crying, because it was such a proud moment for me and such a privilege to vote to know that I'm making an impact on the future of our nation, our state, and our community. I walked out thinking my candidate had won, but he did not. It was a presidential election year between George W. Bush and Al Gore, and everything I heard was go vote. That's what makes the difference. Well, I voted, and you're too young to remember this, but the Supreme Court essentially handed over the office of the presidency to George W. Bush, all because of Florida, one state, and about 570 votes of separation. And I thought to myself, Wow, what if I call those 570-plus people and try to convince them to vote for the candidate that, you know, I believed was the right individual? Can you imagine what and how different our life would have been geopolitically?
We probably wouldn't have gotten into the wars we did, and so many lives would have been saved. You know, that weighed heavily on me. I didn't know all this was going to happen, but I knew at that moment I needed to do more. So, I contacted the local Democratic Party and started volunteering. So I started at ground zero, and after about four or five years of working there and volunteering, they reached out to me when there was a vacant seat for a Maryland State delegate position. And I listened to them politely, and they said, "Hey, we'd love for you to run." I said, "Wow, thanks a lot, thank you, but no thanks," and I hung up. My husband, fortunately, happened to be listening to this conversation. He said, "Did you just say no to that?" I said, "Of course I did. Why wouldn't I?" My husband said, "Why would you say no? You're a public servant already as a transportation engineer. This is a wonderful opportunity to allow you to expand your role as a public servant further." And I was like, "Yeah, but you know, I don't know public speaking. I'm scared. And what if I lose?" And he said, "You're right, but think about the other side. What if you win?" And I said, "Oh, you're right. What if I do, then? Imagine how we can, you know, help the community and address all the things that have bothered me for a long time?" So that is that long story of how I got into it.
PS: The current Maryland Governor, Governor Hogan, enjoys popular support from Republican and Democrat voters. And from what I've been reading and seeing, your campaign has a similar flavor where some Indian- Americans who have traditionally been Republican have offered their support to you. Is that a fair comment?
AM: I am so grateful for the support of the Indian-American community at large. I think this is an example where they put their politics aside, look at me, and say, okay, there is an Indian-American. I may not agree with everything that she supports policy-wise, but I would love to see more Indian-Americans being elected to be in the space of public policy, to be able to go to that individual when issues arise and see if we can work with that individual. So, I do think Indian-Americans do cross over quite a bit politically. And I must say, it's not just Indian-Americans, Poonam, I would say, in general, the electorate, that's what Wes Moore and our campaign is seeing right now, this crossover, you know, because we've been to rural parts of Maryland, whether it's mountain Maryland and all the way to the Eastern Shore. I can tell you there is this great enthusiasm for our campaign and our ticket because we're speaking to the issues that are not blue or red. We're talking about work, wages, and wealth. We're talking about leaving no one behind. We're talking about creating an economy that's inclusive to all. These are not red or blue issues. These are everyone's issues.
PS: What are you hearing from your constituents on the campaign trail? What concerns them the most?
AM: The best part of campaigning is meeting people across the state. There is so much diversity, not just in their race and ethnicity and socioeconomic background, but it's also their geographic location. You know, political diversity, all of it. The common theme that Wes and I have heard as we travel across, whether it's a rural part of Maryland, an urban part, or a suburban, is that people feel like Annapolis has left them behind. That was the common theme we kept hearing everywhere we went. They would hold their hand and say, hey, please don't forget about us when you get elected. And you know, it was so endearing and, at the same time, heartbreaking to hear that because the mission of our campaign is to leave no one behind.
And this mission came about because Wes Moore served in the US Army combat in Afghanistan, and one of the, you know, sacred commitments of soldiers is to leave no soldier behind. When Wes left the US Army, that has been something that has guided him in his daily life, in his ethics, in the way he manages, and in the way he will govern. So, that, you know, came close to our heart every time we kept hearing that, and we hope to change that.
I met a gentleman who had a disabled daughter. He came over to me and shared that even though he had the financial resources to take care of his adult daughter, he had tears in his eyes, talking about how he knows there are families out there that don't have the same access that his daughter does. It hurt him a lot. He is a gentleman who probably doesn't need to worry about anyone else because, as he said, he's got the necessary resources. But that's not the way Marylanders think. They care about others, their community, neighbors, and their families. That's why they're passionate about coming and sharing their ideas and thoughts with us. So that's what we heard, you know, no matter where we went, we feel like they're being left behind, and they want to make sure others aren't left behind either.
PS: As a delegate in the Maryland legislature, you've had a pro-business outlook and worked toward encouraging businesses and innovation. You were part of the Maryland Business Climate Group. In 2011, you accompanied the then Governor Martin O'Malley to India, which led to millions of dollars in business deals for the state of Maryland. Which areas do you think Maryland can partner with India under the current US-India bilateral partnership?
AM: I think there are so many areas in which we can collaborate with India. First of all, in the whole IT sector, right? I know that we have a sister state relationship with Andhra Pradesh in India, and you know, in Hyderabad, it probably outsources most of the professionals in the IT sector. So, I think technology is a great area in which we can collaborate with India. I think there are also more great opportunities. You know, when we went there last time, I think it was in the spice sector. McCormick spices was very interested in working with Indian companies about bringing spices to the United States because here we are, particularly in Maryland. It is the most diverse state on the East Coast. Currently, in the United States, six states are majority-minority means there is no dominant race. And most of them are on the west coast of Hawaii, California, New Mexico, and Nevada. You know, Texas, there and on the East Coast in Maryland. So, we have a very diverse community here, every ethnicity. I think that diversity alone, India can offer a lot working with various businesses, whether it's in the IT sector, as I mentioned, or in, you know, the spice sector. Also, I believe we have Tata Motors here as well. So I think there are just boundless opportunities looking forward.
PS: There are about 200,000 Indian students in the United States, most of whom are in STEM areas. How do you plan to encourage university institutions in Maryland to reach out to their counterparts in India and forge education and knowledge partnerships?
AM: I can tell you STEM is very near and dear to me just because, number one, I'm a STEM major. When I was in the legislature, one of the landmark bills passed was for providing computer science education at every public high school because, at the time, only four percent of high schools even offered a computer science course. And so this bill that was passed by the General Assembly, that I was the lead sponsor on, basically would provide funding to educate our teachers so they can come back and provide a course that's offered in the high schools for students to take. So we did that in the public schools. In higher institutions, I think it's about having foreign exchange student opportunities so that students in Maryland universities could have a foreign exchange program where they would go to India. Students in India could come here and be foreign exchange students. So, I think there are a lot of opportunities there as well. I would defer to our higher education groups to work with them and see what we can do to create this collaboration between the two countries.
PS: Regarding the high crime rates in cities like Baltimore, how does your administration plan to improve the law and order situation in the state?
AM: For an executive, the most crucial role is to ensure the entire state remains safe for all residents. Unfortunately, violent crime has increased, not just in Maryland but throughout the nation. And one of the fundamental reasons I think this is the lack of economic opportunity. We need first to make sure that we create a diverse economy here. We need to make sure that talent is out there. But we need to make sure that it is aligned with jobs that we can have available for every individual, that people have a purpose in life, and they're working, and they're contributing members of society and bringing home enough resources for their family, wages that they can live on. You won't see this type of, you know, high crimes taking place. We'd like to be able to swiftly and aggressively combat gun violence by building strong partnerships across the state, local, and federal law enforcement agencies.
Another thing that we would like to do is invest in proven community-based bias reduction programs. These individuals are closest to the problem and the challenges, and they will be the closest to the solution and help us come up with ways to address crime on the street. We want to make sure that we reform Maryland's probation and parole system by filling every vacant position and ensuring strong supervision of high-risk individuals, and leveraging local offices to connect people to behavioral health treatment, housing, and employment. And we also have to ensure returning citizens are provided with the resources they need to integrate back into our community and our economy. And surprisingly enough, one of the things that I learned because I volunteered for an organization called Justice Jobs, where we take returning citizens and help them to get jobs once they come out. One of the biggest hurdles for them to be productive members of our economy is transportation. Because many returning citizens oftentimes have entry-level positions in the areas of, you know, service and retail oriented and healthcare service sectors, and they have weekend shifts, graveyard shifts. They don't have a car, so they rely on public transportation. Unfortunately, public transport is not available during these hours. And when it is, it's not reliable and dependable. So they end up, through no fault of their own, getting to their jobs late because we don't have reliable public transit, and they end up getting fired, and that whole cycle begins all over again. So I think we need to be able to address this holistically, not just from a criminal justice standpoint, but from an economic perspective, from a transportation, housing, and behavioral health standpoint.
PS: What is your message to voters?
AM: Our message to voters is that we hope they come out and vote – early voting, and on November 8, and you can now do it via mail-in ballot. It is so critical for them to come out and, you know, have a seat at the table. This is how you have a seat at the table by electing those candidates that you believe reflect your values. So I would say, please, please come out and vote. Please don't stop at that, because that's what I did before. Stay engaged. Join advocacy groups and volunteer with the party that best reflects your values. And, you know, make sure you will even consider running for office one day.
PS: Aruna Miller, thank you for taking the time to speak with us!
AM: Thank you for giving me this opportunity to share a little bit of who I am with your readers, listeners, and followers. Thank you.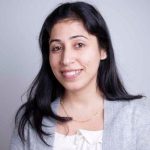 Poonam is a multi-media journalist, and Managing Editor of India America Today (IAT). She launched its print edition in 2019 with IAT's Founder and Editor, the late Tejinder Singh.