New Delhi – In his first visit to India as Secretary of State, Antony Blinken kicked off a packed schedule of meetings on Wednesday July 28, with a show of support to the Tibetan cause. Secretary Blinken met with Ngodup Dongchung, a representative of the Dalai Lama and member of the Central Tibetan Administration (Tibetan government in exile).
Blinken's first engagement was a Civil Society Roundtable with the theme "Advancing Equitable, Inclusive, and Sustainable Growth and Development." In his opening remarks at the Roundtable, Blinken stressed upon the shared values and beliefs of the Indian and American people, including human dignity, equality of opportunity, the rule of law, and freedom of religion and belief. "We believe that all people deserve to have a voice in their government and be treated with respect no matter who they are," said Blinken.
Blinken commented that both democracies are works in progress. "As friends, we talk about that, because doing the hard work of strengthening democracy and making our ideals real is often challenging. We know that firsthand in the United States, where we aspire to be, in the words of our founders, a more perfect union. That's an acknowledgement from day one of our country that in a sense we will always fall short of the mark, but that the way to make progress is by constantly trying to achieve those ideals. As I said before, sometimes that process is painful, sometimes it's ugly, but the strength of democracy is to embrace it," added Blinken.
Participants in the discussion included Geshe Dorji Damdul, the Delhi-based Director of Tibet House; constitutional lawyer Menaka Guruswamy; Inter-Faith foundation founder Khwaja Iftikhar Ahmed; and representatives of the Baha'i, Sikh and Christian communities among others.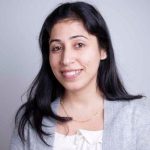 Poonam is a multi-media journalist, and Managing Editor of India America Today (IAT). She launched its print edition in 2019 with IAT's Founder and Editor, the late Tejinder Singh.