The nation was still reeling from mass shootings this month in Buffalo, New York, and Laguna Woods, California, when two teachers and 19 students mostly 10 years of age were shot dead by an 18 year old shooter at Robb Elementary school in Uvalde, Texas. The assailant who bought two guns after his 18th birthday. This is the second deadliest school shooting since Sandy Hook 10 years ago, where 6 adults and twenty school children between the ages of six and seven were gunned down. The assault weapons, such as AR-15, used in these attacks were all purchased legally.
The shooting was so horrific, that family member's of the children were asked for DNA samples. The childrens' bodies were so severely damaged by the gunfire that law enforcement needed the DNA to identify the bodies.
Just today, a student was arrested in Richardson, Texas, at a high school campus. Police found an AK-47 and replica AR-15 rifle in his car. He was a juvenile student at the school. You can count that as a school shooting that was averted.
Some statistics
Since 1970, there have been 188 school shootings according to the K-12 School Shooting Database, which is compiled by the Naval Postgraduate School's Center for Homeland Defense and Security.
According to a recently published study by the American Academy of Pediatrics:
The number one cause of death in the United States for children 0 – 19 years of age is firearms.
Homicide is the most common cause of firearm death for children 0-19 years of age.
In 2019, black kids were far more likely to be killed by firearms than white kids – 10.32 out of 100,000 to 0.72 out of 100,000.
90 percent of all firearm deaths for children 0-14 years of age in high-income countries happen here in the US
US opinion on guns is sharply divided across party lines and communities. According to a Pew Research Center survey conducted in June 2021, 40 percent of adults in the US say they live in a household with a gun, including 30 percent who say they personally own a gun. Democrats and Democratic-leaning independents are far more likely than Republicans and GOP leaners to see gun violence as a major problem (73% vs. 18%) according to the survey. Similarly, Americans who live in urban areas (65%) see gun violence as a problem, while those in rural areas do not (35%).
The mentality of the current governor of Texas, Greg Abbott (a Republican), is best summed up in a tweet he did as a gubernatorial candidate in 2015: "I'm EMBARRASSED: Texas #2 in nation for new gun purchases, behind CALIFORNIA. Let's pick up the pace Texans. @NRA."
Gun Lobby in the US
The National Rifle Association (NRA) is a big donor to politicians, specifically to politicians in the Republican party.  The Brady Campaign to Prevent Gun Violence compiled a list of senators who have received the biggest donations from the NRA. Number one on the list, Republican Senator Mitt Romney (Utah), has received $13,647,676. Republican Senate Minority leader Mitch McConnell has received $1,267,139. Just in the first half of 2019, the NRA spent $1.6 million lobbying Congress against passing gun violence prevention legislation. 
At the time of writing, Texas Governor Greg Abbott, Texas Senator Ted Cruz, and former president Donald Trump are all scheduled to speak at the NRA's annual meeting, despite the school shooting that has just occurred in the state. Ironically, although the NRA spends millions of dollars preventing common-sense gun legislation from being passed in Congress, it is not allowing guns at its annual meeting.
Instead of reducing the number of guns in America, many of these politicians advocate for more guns to control gun violence, including ridiculous suggestions like arming teachers to prevent school shootings, or having armed guards, as well as encouraging the sale of guns to private citizens so they can "protect themselves."
Andrew Kreig, a Washington DC based lawyer and Director of the Justice Integrity Project says that the tight financial relationship between the gun lobby and the Republican party has given the legislative branch a bias that does two things. "One, it almost prevents 60 votes in the Senate needed to pass legislation. And two, that influence carries over to the courts. So even if some place passes gun laws, the current radical Supreme Court could just overturn it." He adds that generally all of the Bill of Rights have some limits, including freedom of speech, freedom of religion, and freedom of the press. "But because of the financial and political considerations, the courts are taking a very tenuous interpretation of the Second Amendment (right to bear arms) and giving it even more protections and making it even more absolute than the other, more traditional rights. And it's done out of political calculation without really more of a superficial tip of the hat to precedent and so forth."
For almost all of American history, the Second Amendment was not interpreted to give an absolute or a near absolute right to take arms wherever you want. That fallacy can be illustrated by the fact that you should try to bring a gun into the Supreme Court, you'd be in handcuffs before you could say a word. So it's purely political, says Kreig.
Longtime New York Times Supreme Court reporter Linda Greenhouse, in her column this week, was writing about the abortion issue. She ended her column by saying, with apologies to my long term colleagues at law school and friends, we're looking at a court that just does what it wants. And the time to be talking about constitutional arguments is over.
Assault Weapons Ban
A 10-year ban was passed by the US Congress in 1994, following a close 52–48 vote in the US Senate, and was signed into law by US President Bill Clinton on the same day. It expired in 2004 under President George W. Bush. There have been efforts to reinstate the ban, but all failed. Its effectiveness has been a subject of much debate. A 2004 study for the Justice Department found found that it was responsible for a 6.7% decrease in total gun murders, and the use of assault weapons in crime declined by more than two-thirds about nine years after 1994 Assault Weapons Ban took effect. The report said that if the law remained in place, it could have a bigger impact.
March for Our Lives
Four years ago, students marched in DC, across the nation, and worldwide demanding the end of gun violence. They were just coming into voting age, and encouraged young people to vote, realizing that unless there are more leaders who favor stronger gun laws, mass shootings will continue. More than 170,000 people have died from guns in the US since then. No gun safety measures have been passed.
There are actions that can be taken, but the current composition of the US Senate is unlikely to result in any change in legislation, as 60 out of 100 senators are needed to pass a law.
March for Our Lives is organizing another march on June 11th, to mobilize people and demand change. In a tweet, March for Our Lives said, "Since our founding, we've registered 1000s of youth voters, passed laws at the state and local level, and culturally shifted the conversation on gun violence. Our national leaders have a chance to act and pass life-saving legislation. It's time to march, our lives depend on it.
With mid-term elections coming up in November this year, if more young people, and all those who favor stronger gun laws go out and vote, it may result in much needed change at the national level. But it requires sustained momentum and focus.
Every time there is a mass shooting, there is widespread outrage, extensive media coverage, and demands for change. But it all dies down until the next shooting takes place. People who should not be able to have access to are still able to purchase assault weapons designed to kill as many people as possible as quickly as possible. We have been living this insanity for a long time. It is time to try something different. Thoughts and prayers do not bring about change. It is time for action. We owe that to the families of those who have experienced loss from gun violence.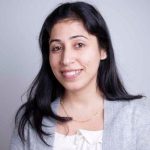 Poonam is a multi-media journalist, and Managing Editor of India America Today (IAT). She launched its print edition in 2019 with IAT's Founder and Editor, the late Tejinder Singh.