Washington, DC – During an event hosted by the United States Institute of Peace (USIP) today, White House National Security Council Coordinator for the Indo-Pacific Dr. Kurt Campbell said he was "very bullish about the future with India." In a discussion on 'Beyond AUKUS and the Quad: What's Next for the U.S. Indo-Pacific Strategy', Campbell stressed the importance of India, who is the only Quad member who is not a formal US treaty ally.
"I think we all recognize the critical, crucial member in the Quad is India. We are determined to do what we can, in the bilateral context, to build relations," said Campbell. He added that the origins of a closer partnership between the US and India began in the Bush administration and that people to people connectivity between the two nations has really manifested much more clearly in a bipartisan way over a succession of administrations.
Successive US administrations have recognized that "a key fulcrum player on the global stage in the 21st century will be India," commented Campbell. "The broad sweep of history has brought us together."
"This is a moment for thinking creatively and strategically about what's possible" between the U.S. and India, said Campbell.
The consensus of the four members of the Quad is that it is appropriate to be considered as an informal gathering, said Campbell, adding that they will not be taking steps in the near term to institutionalize. Campbell emphasized that the Quad is actually about promoting the common good, and "It is about deliverables that are of interest to the peoples of the Indo-Pacific."
President Biden hosted the first in person Quad Leaders Summit on September 24, 2021 in Washington, DC. The leaders underscored their dedication towards working with ASEAN and its member states—the heart of the Indo-Pacific region—in practical and inclusive ways. The Quad committed to donating 1.2 billion doses of the COVID-19 vaccine, establishing a semiconductor supply-chain initiative, forming a green-shipping network, establishing a clean-hydrogen partnership, and launched a Quad fellowship that will sponsor 100 students per year—25 from each Quad country—to pursue masters and doctoral degrees at leading STEM graduate universities in the United States. The leaders discussed a common approach to emerging technologies, cyber security and addressing the challenge of climate change. They agreed to "closely coordinate our diplomatic, economic, and human-rights policies towards Afghanistan and will deepen our counter-terrorism and humanitarian cooperation in the months ahead in accordance with UNSCR 2593."
The next Quad leaders summit will take place in Japan in 2022.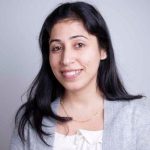 Poonam is a multi-media journalist, and Managing Editor of India America Today (IAT). She launched its print edition in 2019 with IAT's Founder and Editor, the late Tejinder Singh.