Washington, DC – Briefing reporters today (August 12), Deputy Assistant to the President and Coordinator for the Indo-Pacific Dr. Kurt Campbell said the PRC used the visit of House Speaker Nancy Pelosi as a pretext to "launch an intensified pressure campaign against Taiwan and to try to change the status quo, jeopardizing peace and stability across the Taiwan Strait and in the broader region."
Pelosi's visit was consistent with the One China policy of the US, and China has overreacted, said Campbell, calling PRC's actions provocative, destabilizing, and unprecedented.
After Pelosi arrived in Taiwan, Xinhua News Agency issued a notice that the Chinese People's Liberation Army would be conducting military exercises, training activities, and live-fire drills in the maritime areas and air space surrounding Taiwan. Disregarding the established centerline between PRC and ROC, China launched missiles into the waters around Taiwan and declared exclusion zones around the island nation that disrupted civilian, air, and maritime traffic. "It surrounded Taiwan with more than a dozen warships; even today, several warships remain around Taiwan," said Campbell.
"China's actions are fundamentally at odds with the goal of peace and stability. They are part of an intensified pressure campaign against Taiwan, which has not ended, and we expect it to continue to unfold in the coming weeks and months," added Campbell. "We will continue to take calm and resolute steps to uphold peace and stability in the face of Beijing's ongoing efforts to undermine it and to support Taiwan in line with our longstanding policy."
Beijing's overreaction is not unrelated to the upcoming 20th National Congress of the Chinese Communist Party. "Everybody now knows that Xi Jinping is interested in being anointed for an unprecedented third term. And Xi's main pretext is that he's a strong leader who will accomplish the so-called national rejuvenation of China, which actually includes the recovery of Taiwan," said Vincent Wei-Cheng Wang, Senior Fellow in the Asia Program at the Foreign Policy Research Institute. Wang noted that Xi is facing a very challenging domestic environment, with China's economic growth slowing down, and the so-called zero COVID policy has caused a lot of resentment. China's economic growth slowed sharply to just 0.4 percent in the second quarter of 2022 and is unlikely to meet the full-year growth of 5.5 percent. "And, of course, Xi Jinping is not without some internal challenges within the CCP. Xi becoming the leader for a third term at the 20th Congress is not yet a foregone conclusion. You know, there could still be some uncertainties," noted Wang. This is why Xi is trying to project himself as a powerful leader who can stand up to the superpower of the United States, said Wang.
"The Chinese also know very well that handling the relationship with the United States is absolutely crucial," noted Wang. "They want to appear tough and to be equal to the United States but cannot afford a premature military showdown with the US military because, number one, the Chinese military is not ready. Number two, if there should be a military confrontation with the US military, there's no certainty that China can win at this moment."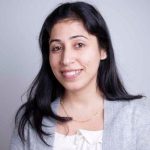 Poonam is a multi-media journalist, and Managing Editor of India America Today (IAT). She launched its print edition in 2019 with IAT's Founder and Editor, the late Tejinder Singh.