Washington, DC – US Secretary of State Antony Blinken embarked on his first visit to India on Monday July 26. He will be meeting with Prime Minister Modi, External Affairs Minister Jaishankar, and National Security Advisor Doval.
In a briefing on Secretary Blinken's travel to India, Acting Assistant Secretary of State for South and Central Asian Affairs Dean Thompson said, "we expect the discussions to focus on ways to further deepen our bilateral partnership, which is very broad in scope, as well as increased convergence on regional and global issues." Issues to be discussed during this visit include cooperation on COVID-19 response efforts, Indo-Pacific engagement, shared regional security interests, shared democratic values, and addressing the climate crisis. This visit also will discuss a potential Quad Summit at the Head of State level toward September/October 2021. Although some media reports have tried to divert the focus only on human rights issues, this visit goes deeper than that and has substantive issues of great importance for both countries and the world.
Afghanistan
On July 16, the US had announced a US-Afghanistan-Uzebekistan-Pakistan' Quad diplomatic platform "focused on enhancing regional connectivity". Commenting on "efforts to support a just and durable peace in Afghanistan," in the briefing, Thompson said, " All of Afghanistan's neighbors and countries in the region have an interest in a peaceful, secure, and stable Afghanistan, which can only be accomplished through a negotiated political settlement that brings an end to 40 years of conflict. India, of course, is a critical partner in the region, and we welcome India's shared commitment to peace and supporting economic development in Afghanistan."
COVID-19
India has been hit hard with the second wave of the pandemic. Per the World Health Organization (WHO), there have been 31,411,262 confirmed cases of COVID-19 in India with 420,967 deaths, reported to WHO. As of 19 July 2021, a total of 406,481,493 vaccine doses have been administered.
On working with India to overcome the pandemic, Thompson said, "We're confident that through our combined efforts, including through the Quad vaccine partnership and the G7-plus vaccine commitment, we will be able to share vaccines – safe and effective vaccines – to the Indo-Pacific region and the world. We will continue to seek ways in which we can work together to save lives around the world, and bring an end to the global pandemic."
Climate Crisis
The bilateral meetings will focus on climate change, however the US has been silent on the International Solar Alliance (ISA) promoted by India to increase the use of solar energy to fight climate change. Speaking on the "complementary strengths" of India and the US in tackling the climate crisis, Thompson mentioned the US-India Climate and Clean Energy Agenda 2030 partnership which was launched in April this year. He added that, "The partnership will reinforce our collective efforts to achieve both the goals of the Paris Agreement and our own ambitious 2030 targets for climate action and clean energy."
"We look forward to further strengthening our ties with India to ensure a safer and more secure world," added Thompson. "To that end, the Secretary and Defense Secretary Austin look forward to hosting their Indian counterparts for the annual U.S.-India 2+2 Ministerial Dialogue later this year."
Secretary Blinken will have a full day of meetings in New Delhi on Wednesday July 28, before he leaves for Kuwait to meet with senior Kuwaiti leadership.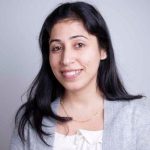 Poonam is a multi-media journalist, and Managing Editor of India America Today (IAT). She launched its print edition in 2019 with IAT's Founder and Editor, the late Tejinder Singh.