Washington, DC – Since the World Health Organization (WHO) declared the novel coronavirus (COVID-19) outbreak a global pandemic on March 11, 2020, it has continued to take a toll on the world.
This month India reported the world's highest increase in coronavirus infections, leading to a shortage of oxygen and hospital space across the nation. The sharp rise in cases has been attributed to super spreader political rallies and religious festivals. Scientists are still examining whether a novel coronavirus variant – containing two key mutations to the spike portion of the virus – is contributing to the surge.
On May 10, the World Health Organization said it was classifying the B.1.617 variant – the Indian coronavirus variant identified last year – as a variant of global concern. According to WHO, the predominant lineage of B.1.617 was first identified in India last December, although a previous version was identified in October 2020.
"We are classifying this as a variant of concern at a global level," said Maria Van Kerkhove, WHO technical lead on COVID-19. "There is some available information to suggest increased transmissibility."
Initial laboratory-based studies of limited sample size indicate that B.1.617 spreads more easily, according to WHO, but more information is required to determine how much of the variant is circulating.
The B.1.617 variant is the fourth variant to be classified as a variant of global concern, necessitating increased analysis and tracking. Other variants include the ones first detected in Britain, South Africa and Brazil. According to GISAID, B.1.617 has been reported in 50 countries so far, with over 2000 cases in the UK and more than 700 in the US.
Indian authorities recently approved a locally developed drug (2-deoxy-D-glucose or 2-DG) authorizing its use for treating patients with COVID-19. 2-DG was developed by India's Defence Research and Development Organisation (DRDO) with the pharmaceutical company Dr Reddy's. The government said it "will be of immense benefit to the people suffering" from Covid-19.
In a press release the Indian government said, "Clinical trial results have shown that this molecule helps in faster recovery of hospitalised patients and reduces supplemental oxygen dependence."
However, health experts point to the paucity of clinical trial data on the drug's performance, casting doubt on its emergency approval as a treatment for COVID.
Currently mRNA vaccines remain the most effective means of preventing severe illness from COVID-19. A new CDC assessment that finds fully vaccinated adults 65 years and older were 94% less likely to be hospitalized with COVID-19 than people of the same age who were not vaccinated. People 65 and older who were partially vaccinated were 64% less likely to be hospitalized with COVID-19 than people who were not vaccinated.
CDC Director Rochelle P. Walensky, MD, MPH, said, "COVID-19 vaccines are highly effective and these real-world findings confirm the benefits seen in clinical trials, preventing hospitalizations among those most vulnerable. The results are promising for our communities and hospitals. As our vaccination efforts continue to expand, COVID-19 patients will not overwhelm health care systems – leaving hospital staff, beds, and services available for people who need them for other medical conditions."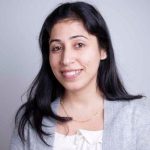 Poonam is a multi-media journalist, and Managing Editor of India America Today (IAT). She launched its print edition in 2019 with IAT's Founder and Editor, the late Tejinder Singh.