In recent years, Indian organizations across the United States have been diligently advocating for an extension and expansion of the Employment Authorization Document (EAD) program by the United States Citizenship and Immigration Services (USCIS). FIIDS (Foundation for India and Indian Diaspora Studies), one of the more active organizations advocating for Policy Studies, Analysis, Advocacy, and Awareness Related to India and the Indian Diaspora, has also called on the Biden Administration to issue EADs for those stuck in the infamous Green card backlog.
The primary goal of this initiative is to assist individuals who have been living in the United States for several years, have received approval for a green card, but remain in immigration limbo due to the discriminatory 7% country cap in the employment-based green card process. This cap disproportionately affects nationals of countries like India, resulting in prolonged waiting times for their green cards.
The proposed solution put forward by FIIDS is to request the USCIS to grant individuals with approved green card applications, who have been waiting for a minimum of five years, an EAD (Employment Authorization Document) and advanced parole document. This would enable them to switch employers and travel freely, offering a lifeline to hundreds of thousands of families facing the uncertainty of the green card backlog.
Khanderao Kand of FIIDS aptly summarized the situation, stating, "We appreciate USCIS for the 9/27/2023 EAD rule changes benefiting refugees, asylum-seekers, and deportees on humanitarian grounds. We request the USCIS to consider both humanitarian and economic interests of the US to extend the EAD benefits to tax-paying legal non-immigrants who are backlogged for their priority date and potentially be waiting decades to over a hundred years for their GC. We request to extend rules of the 5-year EAD to cover I-140 approved applicants, spouses, and dependent children. This empowers applicants, fosters industry diversity, and strengthens the economy. This will also help families not to be broken but also contribute to the economy."
The significance of this request is multifaceted:
1. Humanitarian Benefits: The extended EAD program offers significant humanitarian benefits. Families, including women and children, gain the ability to travel freely and live with less fear of separation or aging out of the immigration system. This promotes family unity and a more humane immigration process.
2. Economic Growth: Extending the EAD program to green card applicants who have waited for a minimum of five years offers a significant boost to the U.S. economy. Data shows that highly skilled immigrants, many of whom are affected by the backlog, contribute significantly to the country's economic growth. By granting them employment authorization, the U.S. stands to benefit from their talents and skills, leading to increased productivity, innovation, and entrepreneurship.
3. Skills Retention: Data highlights the importance of retaining highly skilled immigrants in the U.S. workforce. The extended EAD program ensures that the US does not lose out on the talents of individuals who have already been vetted and approved for permanent residency, thus maintaining a skilled labor pool.
4. Job Mobility: Data from the Cato Institute reveals that individuals with approved green card applications, who are granted EADs, have the freedom to change employers, pursue higher-paying opportunities, and potentially improve their economic well-being. This not only enhances their own lives but also contributes to a more dynamic and competitive job market.
5. Freedom of Travel: Families, particularly women and children, can travel without the fear of aging out of the advantages of extending the EAD program.
6. Maintaining Priority Dates: Allowing individuals to maintain their priority date in the green card queue is crucial for those eagerly waiting for their turn.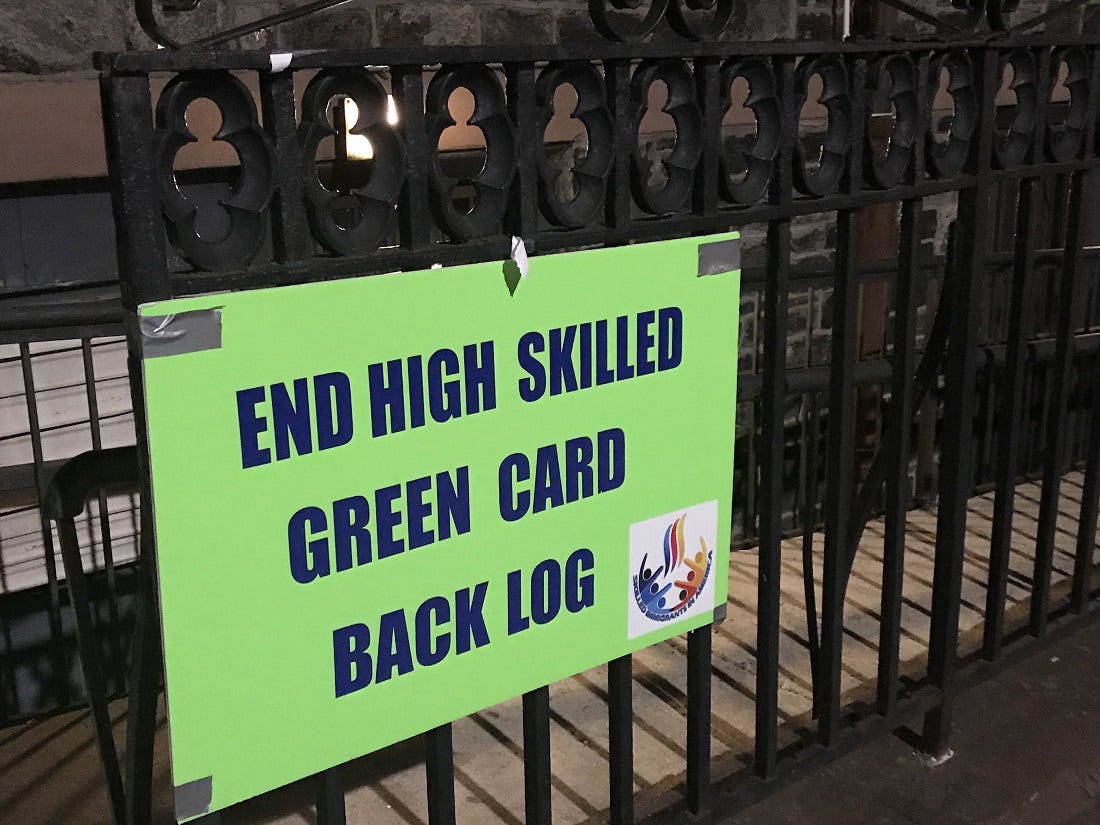 The call for extending the EAD program is not new, and it has received support from various quarters. The White House's Asian American Pacific Islander Advisory Committee has made similar recommendations in the past. Immigration lawyers have also been advocating for this change, asserting that the USCIS possesses the authority to enact such a policy.
Notably, this concept was initially introduced by the Obama administration in 2014. However, at that time, the idea was thwarted by special interest groups that were reluctant to provide mobility to high-skilled workers. Fast forward to today, with the backlog growing and the Indian immigrant community enduring considerable hardship, the imperative for change has become evident.
Families have been torn apart, children have aged out, and individuals have been forced into stagnant lives dependent on renewal cycles lasting up to 15-20 years. In light of these challenges, community leaders and advocates have approached the current administration with a renewed plea for change to provide dignity to those who have been ensnared in the green card backlog.
While these recommendations and requests currently exist in an advisory state, their realization remains to be seen. As the discussion continues, it is possible that the same individuals who played a role in crafting a similar executive order in 2014 may finally allow individuals who have legally resided in the country for years to access the benefits of an EAD and advanced parole, offering a glimmer of hope to those stuck in the green card backlog.
Rohit Sharma is a Senior Journalist who has lived in Washington DC since 2007. He currently is a contributor to Dainik Bhaskar, the world's third largest newspaper by readership. His opinion pieces feature on News 9 and The Quint. He has been invited as guest on the BBC, NDTV, India Today, AajTak, Times Now, Republic, Zee news and others. His work has featured in six Indian Languages.